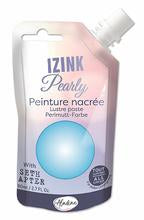 Seth Apter Izink Pearly - Winter sky
Izink Pearly is from Seth Apter's Isecond and all new collection of products from Aladine. Pearly is a highly opaque Lustre Paste that can be used and applied in a multitude of ways. It adds lucious, lustrous sheen to your surface and can even mimic the look of metal. It is permanent when dry, comes in 18 colors, looks gorgeous on both light and dark backgrounds. Given it strong opacity, it truly pops off a black substrate. Pearly is all surface and works on paper, glass, wood, ceramic, plastic, canvas, etc. It is washable on textiles once heat set.
Paint it on with a wet brush and you can create shiny, faux-metal surfaces. Spread it on with a palette knife and scratch the wet paste for a grungy mixed media feel. Apply through a stencil and it holds its shape. Brayer it on a Gelli Plate for lustrous effects. Add it to your surface in thick drops, let it dry overnight, and you can create dimensional embellishments. It is fully flexible on bendable surfaces. Colors can be mixed to create custom shades.